George is one of our now retired Boars. Penelope's litter born on May 11th was his last.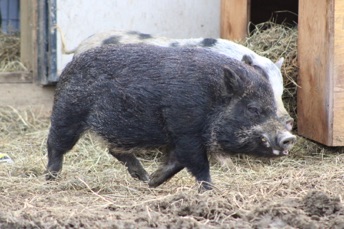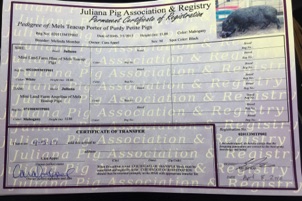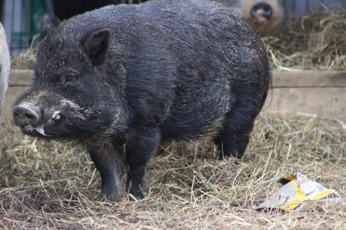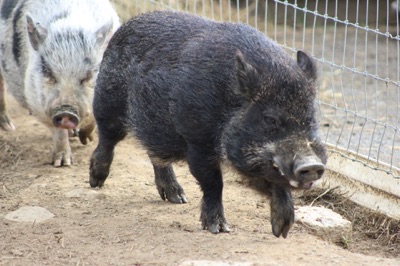 Porter is a really neat looking 5 year old Boar. With both Julianna Papers and AMPA Registrations and measuring at 15" tall he is a quality boar who has some amazingly colored piglets. He has a beautiful black coat with blonde hairs throughout it. His unique color allows him to sire the "chipmunk" color piglets and we are always excited to see what beautiful piglets our mamas will have. He is also being offered for Stud to other mini pig breeders. If you are interested in one of his piglets or would like to breed your female to Porter ($650) feel free to call.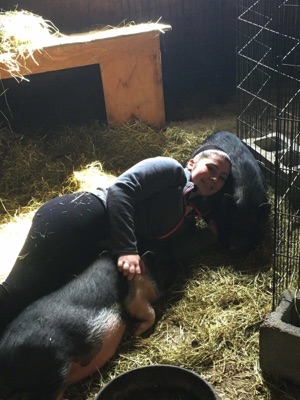 Charlie! She is our favorite not only because she was our first mini pig but also because she is so friendly and will sit with the dogs for treats, come when she is called and promtly falls over so you can scratch her belly. Charlie is now a 3 year old little girl and lives with a close friend of mine. Charlie sparked the love we now have for pigs and we are so blessed to have her part of our family. She is not one of our lovely mothers but is always in our hearts.
Pebbles! She is a GORGEOUS 15" pig with very feminie features, a beautiful face and a loving personality. She came to us underweight starving for food as well as attention. In a matter of months this sweet girl got to a healthy weight and loves her daily belly rubs. She has quickly turned into a favorite among the girls here at the farm. Currently she has found a forever home with lovely Maddy (the girl in the picture) and enjoys belly scratches all day long. Pebbles is not one of our lovely mother.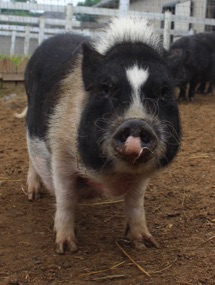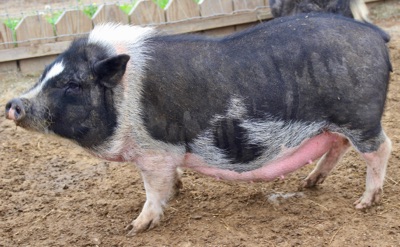 Parsley! She is the smallest of our pigs at 15" and slim built but do not tell her that, she is a spunky little girl! Parsley loves her food and expecially loves her raisin treats. She is the first to greet us every morning with her distinctive squeal and run to the gate. She is a fabulous mother who truly cares for her little ones and seems to pass on her lovely personality to her piglets. To snag one of her next piglets call today!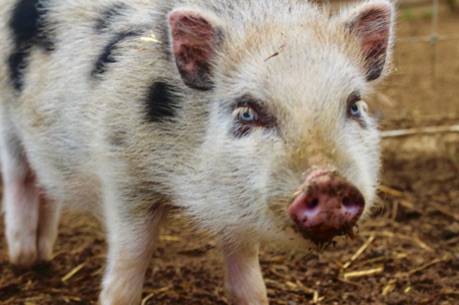 Penelope! She is a beautiful blue eyed little pig whose mother is our very own Parsley! I think Penelope is just beautiful with those piercing eyes and am excited to see the piglets that she will have in the future! She is much older then she look in the picture but I just LOVE that picture with her eyes just sparkeling!