George is one of our Boars and he is 3 years old and rather small at 14" tall. We have had quite a few healthy litters that he had sired and they are all very sweet piglets. George is a very kind pig and is happiest when he sleeps burried up in the hay snoring away.
If interested in Stud Services, George is available for $500.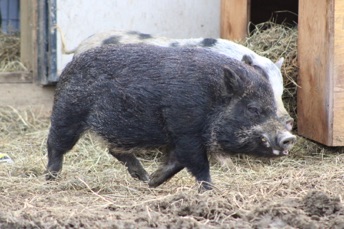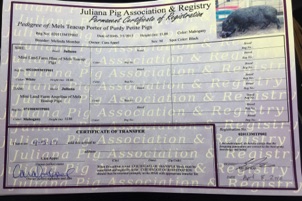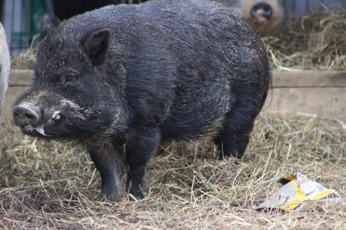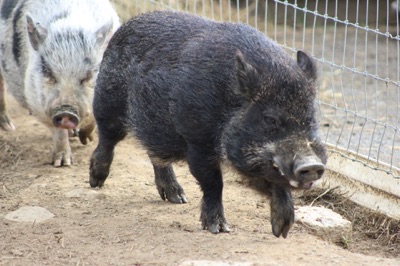 Porter is a really neat looking 4 year old Boar. With both Julianna Papers and AMPA Registrations and measuring at 15" tall he is a quality boar who has some amazingly colored piglets. He has a beautiful black coat with blonde hairs throughout it. His unique color allows him to sire the "chipmunk" color piglets and we are excited to see what colors we will get when Porter sires pigelts from Charlie and Pebbles. He is also being offered for Stud to other mini pig breeders. If you are interested in one of his piglets or would like to breed your female to Porter ($650) feel free to call.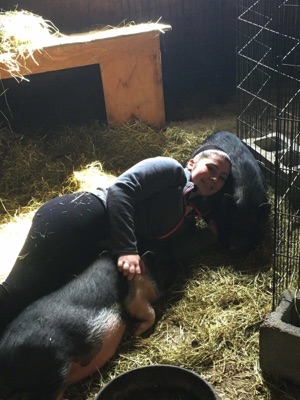 Charlie! She is our favorite not only because she was our first mini pig but also because she is so friendly and will sit with the dogs for treats, come when she is called and promtly falls over so you can scratch her belly. Charlie is now a 3 year old little girl and measures at 15". She is a bit taller then Richard (the corgi in the picture). Charlie sparked the love we now have for pigs and we are so blessed to have her part of our family.
Pebbles! She is a GORGEOUS 15" pig with very feminie features, a beautiful face and a loving personality. She came to us underweight starving for food as well as attention. In a matter of months this sweet girl got to a healthy weight and loves her daily belly rubs. She has quickly turned into a favorite among the girls here at the farm.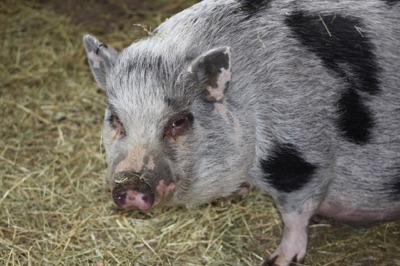 Sally is another pig that came to us very underweight. She is now at a healthy weight and then some. Sally certainly loves her feed and has quite a few fat rolls to show for it. We have had one beautifully healthy litter of piglets from her (Congratulations to all who purchased them) and are excited to see the colors that came from her and Porter. Check them out on our piglet page. She is one of the shyer pigs that we have so the times when she lets us pet her are always much appreciated and warms your heart to see the trust that she is learning to have for us. Sally is AMPA Registered and stands at 15"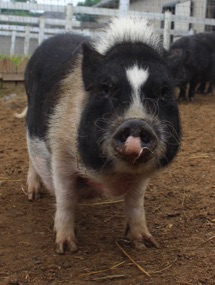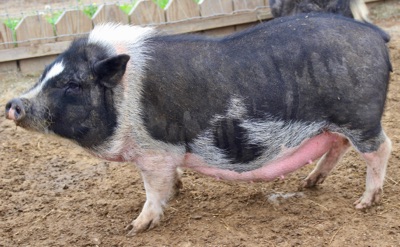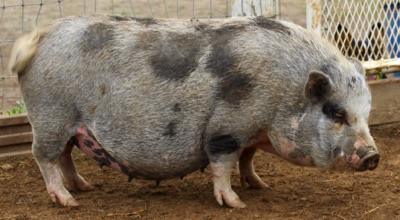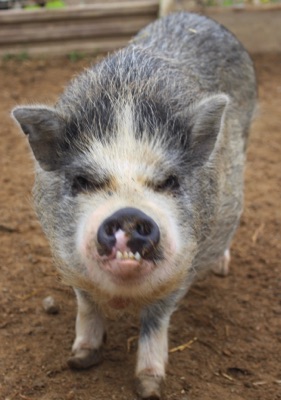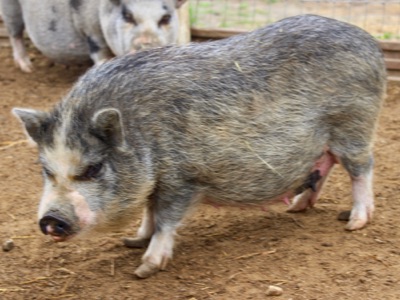 Parsley! She is the smallest of our pigs at 15" and slim built but do not tell her that, she is a spunky little girl! Parsley loves her food and expecially loves her raisin treats. Parsley, like many of our pigs, came to us needing some TLC. As you can tell from the pictures, we are working on getting her little hooves trimmed back so it is easier to walk but this is a long process. She shows her appreciation to us though by greeting us every morning with her distinctive squeal and run to the gate. She is a fabulous mother and seems to pass on her lovely personality to her piglets. To snag one of her next piglets call today!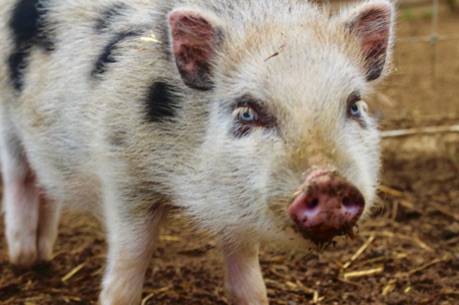 Penelope! She is a beautiful blue eyed little pig whose mother is our very own Parsley! I think Penelope is just beautiful with those piercing eyes and am excited to see the piglets that she will have in the future!